I love looking at recipes. We eat pretty much the same thing each week, but browsing recipes is one of my favorite pastimes. Thank goodness for Pinterest. What did a nursing mother do before the invention of the internet or smartphones!? We pretty much eat the same thing every week, but I've been trying to get a little bit more creative in the kitchen by using recipes that use the ingredients we purchase at the store on a weekly basis. I'd love to have smoked salmon with lemon-grilled asparagus alongside truffle-garlic mashed potatoes for dinner every night… but we'd rather save up $$ for vacations (and college), so we keep it simple.
Recipes We've Made (and liked)
Let's start with cookies, shall we? I made a double batch of Peas & Thank You Totally Oatmeal Scotchies for our small group last week.
My cookies were not as pretty, but boy were they tasty.
TIP: refrigerate your dough for at least 30 min before baking. I baked in batches and the last batch (that had been in the fridge the longest) was the least crumbly!
TIP: don't use thicker types of rolled oats (i.e. Trader Joe's GF oats). I made a second batch with TJ's oats and while they delicious, they are also a crumbly mess. The quick cooking Kroger brand oats (not instant and also not GF) held together better.
Last Sunday, I made a huge batch of Brittany's Vegetable Lentil Soup.
It is everything I love in a lentil soup- hearty, warm and filling. Great job, Brittany!
We have also made this White Chicken Chili twice! It's delicious with a squeeze of fresh lime!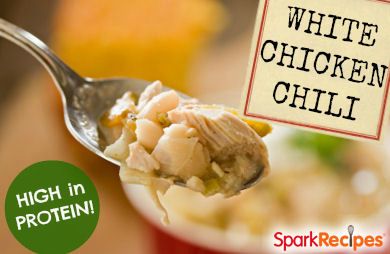 This Chopped Winter Salad recipe from Real Simple is stellar. With chunks of sweet roasted butternut squash and salty feta cheese and kalamata olives, this salad is satisfying and packed with flavor.
I've been experimenting with 2-ingredient Banana Pancakes ever since I saw them on the Carrots 'n Cake blog.
My favorite combo is 1 medium to large Banana [mashed], 1 Egg + 1 Egg White [beaten], a pinch of Baking POWDER, and cinnamon to taste. Mix your "batter" well. Heat a pan over medium-high heat, add some fat (cooking spray, butter or my favorite- Coconut Oil) and cook for 3-5 minutes on the first side (the top should have tiny little bubbles and should be pretty much set), and cook on the second side for 2-3 minutes. Serve with peanut butter. YUM
Recipes to Try
I'm going to go eat some more cookies (seriously) while I browse Pinterest for dinner ideas! I'm guessing we're not actually going to be eating anything new for dinner tonight, but at least I'll have more dinner inspiration, right?
Do you have any recipes that you want to make? What are some of your go-to recipes?